August 6, 2016 12:46 am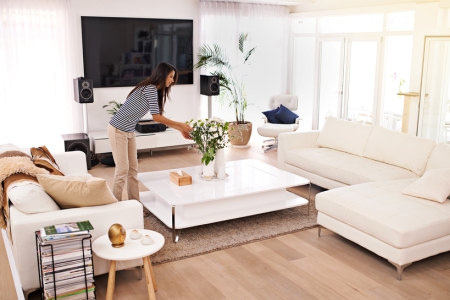 Nobody likes to spend hours cleaning house—and sometimes, there are few hours to spare. How is it some seem to have a knack for keeping their homes looking spotless in no time at all?
Country Living magazine recently polled home bloggers to come up with nine tricks:
Take Your Shoes Off
– Shoes carry dirt and germs. Mandate the family remove them when coming in the door—and put up a sign in the entryway asking visitors to do the same.
Make the Bed
– Even if the bedrooms are not picture-perfect, a neat bed pulls together the room.
Squeegee the Shower Every Time
– Squeegeeing only takes about 20 seconds, and it keeps the glass clean and shining.
Clean the Bathroom Sink
– Quickly swipe the sink with a wipe to keep it sparkling. Keep the wipes handy under the sink.
Wipe Down Kitchen Counters
– Use a homemade solution of one part vinegar with three parts water to keep counters clean.
Clean Up as You Go
– Wash the pots and put away ingredients as you finish while you cook—the goal is to have nothing to do after dinner but put plates in the dishwasher.
Do a Five-Minute Cleanup Before Bed
– Five minutes before bedtime, put everything back in its place—pick up the dog's toys, hang up jackets and put away the mail, for instance.
Put Your Clothes Away
– Every master bedroom has one chair that starts off empty on Monday and ends up covered with clothes by Friday. Before you go to bed, put them away.
Open a Door or Window
– Letting in fresh air helps keep your home feeling fresh.
Published with permission from RISMedia.